Flying Drone in India is a common sight these days with an increase in the number of travel photographers, leisure, and hobby photographers. Unlike others, even I wanted to fly one. But before that, I just did research on "things to consider before flying a drone in India". Procedures to undergo before flying a drone, surprised me to a greater extent, as my thought all these days were flying a drone is equal to playing with the remote car. In this article, I wish to share important things that even a non-drone enthusiast should know for the safety of society and the country. No doubt it will be a valuable article for all enthusiasts who wish to fly a drone.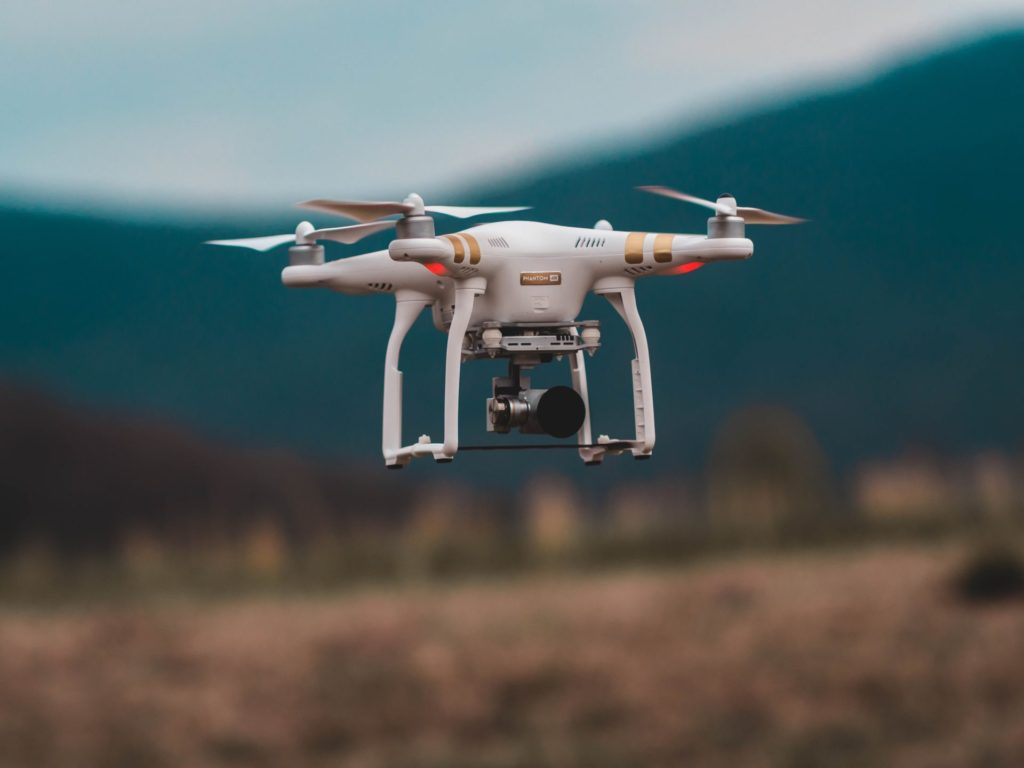 Below are the 5 things to know before flying a drone in India.
What is a Drone and Categories of Drone
A drone is an unmanned aircraft that is piloted from a remote station. Drones fall under the Remotely Piloted Aircraft system and they can be either autonomous or controlled ones. These drones can be used for remote surveillance, photography, and agricultural needs. Based on the weight of the drone, they fall under the below categories
| Category | Min Weight in Kg | Maximum Weight in Kg |
| --- | --- | --- |
| Nano | 0 | 0.250 |
| Micro | 0.251 | 2 |
| Small | 2.1 | 25 |
| Medium | 25.1 | 150 |
| Large | 150.1 | Anything beyond 150 |
Categories of Drone in India based on the Weight
Legally Buying or Importing a Drone to India
The first and foremost thing one should know before buying a drone is understanding how a drone is controlled from the remote location. Drones being an unmanned aircraft consists of transmitter and receiver synchronized with a remote control to a particular Radio Frequency. With this connectivity established, drones can be controlled with the signals to and fro. Let us dive into things to consider before owning a drone.
Equipment Type Approval
Either you are trying to Import a drone to India or purchase one locally, the first thing we should consider is, whether the Drone has "Equipment Type Approval" from the Wireless and Planning Coordination wing of the Department of Telecommunication, India. This approval is mandatory as it certifies that the drone operates in de-licensed radio frequency and those approvals are valid for a particular make and model. If you are purchasing one in India, probably the importer or seller would have bought this Equipment Type Approval as Dealer Possession Licence or Import License. Ensure to get a copy of the same as you need it to apply for UIN which will be discussed later.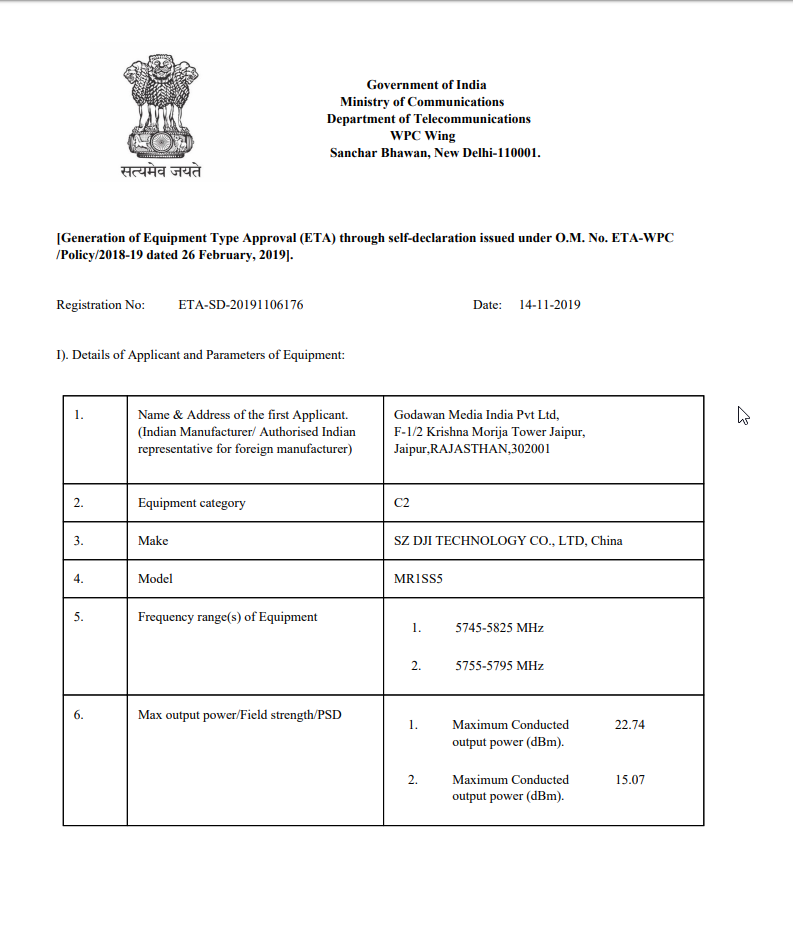 If this Equipment Type Approval is not available, then one should apply for the same. You can download the application from this link and make an online payment at eCollection for WPC & WPF on DoT official website.
No Permission, No Takeoff
If the drone that you purchased has Equipment Type Approval, its time for you to check whether the Original Equipment Manufacturer (OEM) or Manufacturer comply with No Permission, No takeoff software program. This is applicable to all the drones except Nano Category. This software ensures that the drone operates only after getting the necessary permission from the Digital Sky Platform of the Indian Government.
Import Clearance and Import License
If you are importing from other countries, you should consider applying for Import Clearance to Directorate General of Civil Aviation along with the Equipment Type Approval. Once the import clearance is approved, you will get an Import License from Directorate General of Foreign Trade. These can be done in the Digital Sky Platform. Once you get the import license, you can import the drone to India.
Congratulations now you are the owner of Drone. Owning a drone doesn't mean that you can still fly the drone in India. The next steps to follow are below
Register the Drone before flying
Once the drone is with you, it's your duty to register the drone with the Indian Government and get a Unique Identification Number (UIN). Foreign Nationals are not eligible to apply for UIN. Following documents are needed to Obtain UIN
Equipment Type Approval Document from WPC
No Permission – No – Take-off Compliance Certificate from Drone Manufacturer
2 Government ID's (Passport, Aadhar, DL, etc)
Manual Book and Specification of Drone
Once everything seems OK, you will get an approval with UIN in the digital Sky Platform and the owner should affix the UIN in a Fire Proof Plate and embed to the drone
Get Operator Permit to Fly Drone in India
To operate a drone in India, one should get Unmanned Aircraft Operator Permit, if the drone doesn't belong to Nano Category and Micro Category of flying height less than 200 Ft. Following documents are needed to Obtain UAOP and need to apply before 7 days of operation
Standard Operating procedure
Permission of Land/ property owner to take off and land the drone
Remote Pilots detail
Insurance Details for the Drone.
With all these documents one can submit the application in the Digital Sky Platform. Fees of INR 25000 can be paid in Bharatkosh link and the receipt should be uploaded to the Digital Sky Platform. This permit is valid for 5 years and one should consider renewing it later by paying INR 10000. The document should be kept handy while flying the drone in India.
Remote Pilot Should be Trained Before Flying Drone
The remote pilot should have undergone training from any one of the authorized institutes. To undergo training he should have a minimum qualification of 10th Class. He should log his flight hours in the Digital Sky Platform. He should do Pre takeoff checks and follow the standard operating procedures during and after the flight.
Where and When you should not Fly Drone in India
You are not permitted to fly drone in the following areas or conditions
Within 25Km of Line of Control and international borders.
Near airports, military installations, and military bases.
Near Parliament and Rashtrapati Bhavan in New Delhi.
In open space at night.
Above are the 5 things one should consider before flying a drone in India. Since drone photography is being used by Travellers to capture the aerial view, a short note especially for travellers is provided below.
Things Travel Photographers should Consider before flying Drone
Flying above 200 Ft requires an Unmanned Aircraft Operator Permit. Should inform local police on the same.
To fly within 200 ft, you just need the drone with UIN, and heads up to the police is must as per law.
Ensure you respect every individual's privacy while using the drone.
Night photography is allowed only in well lit enclosed premises.
I hope you would have surprised like me to see these laws and regulations before operating the drone. From this, it's clear that, if you are looking to purchase a drone for some recreational purpose, Nano Drones are the best. Even going for a high end professional Micro Drones will end up in huge formalities.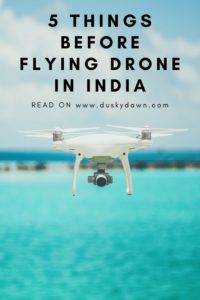 If you feel this article might help you and your friends, share it to social media and also save the above Pin to Pinterest Board to read it later.
Note: Images used in this article are from Unplash and credits has been given to photographers.