After a long break, amidst the COVID-19 situation, I got a chance to visit Mysore City a day before Dussehra and the lighting set up made was no doubt a visual treat. Visiting Mysore during Dussehra is something special and it was one of the things pending on my checklist for a long time. I had stayed in Mysore for almost 4 months and no doubt Mysore is a must-visit destination for its calm, clean, and peaceful nature. This article is all about Mysore on the eve of Dussehra/Dasara 2020 and my mesmerizing experience.
Dussehra/Dasara is an Indian festival that's celebrated throughout the country with different names like Vijaya Dashami, Dasara, Dashain, etc. Even though Dussehra is celebrated throughout the country, the celebration in Mysore is something different and the city decorated with lights makes the occasion more festive.
Visit our Instagram page for more pictures.
Mysore Palace and Lighting
The first and foremost thing that comes to mind when we hear of Mysore is that, the Heritage Mysore Palace. It's the official residence of the Wadiyar Dynasty. Lighting of palace happens even during the normal days. But its looks majestic and beautiful when the entire streets along with the palace has been decorated with lights during Dussehra. I felt Covid-19 had less impact over the people gathering in front of palace and was able to visualize a decent crowd.
Mysore City Decorations
The Mysore city has been decorated beautifully with lights everywhere.The city lights are switched on by 7.30 PM and it's turned off by 9.00 PM. Some of the famous circles like Chamaraja Circle,K R Circle,Hardinge Circle in the city has been decorated beautifully and turned to be real visual treat. Even we could see Covid awareness messages in the form of lights across the city.
Street Markets
I just wanted to visit markets around Mysore. I chose to visit Devaraja market which was quite near to the palace. The markets were crowded with people who were busy with their last minute purchase to celebrate Dussehra. Most of the vendors were selling agricultural products like Flowers, Banana Saplings,Lemon and stuff needed for the pooja.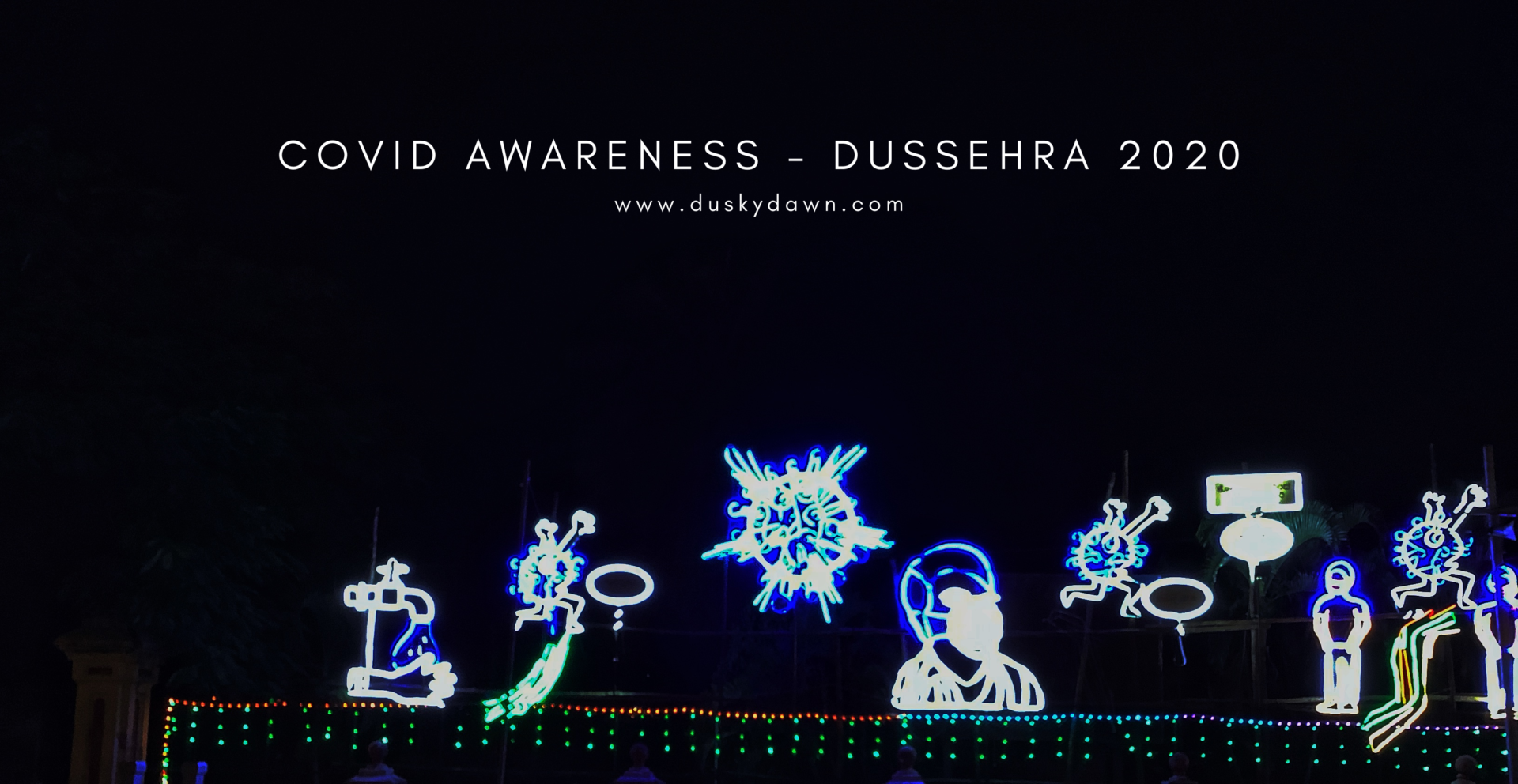 Due to COIVID-19, there were restriction throughout the city. I heard from local people that the crowd is very less in 2020. Even though I got a chance to visit Mysore during Dussehra, i feel this as an incomplete festive with restrictions for safety of people.I did not get chance to visit Chamundi temple to have an aerial view of Mysore city. But still enjoyed the city with its beautiful decorations and less crowd.
I hope you had enjoyed this article with visuals from Mysore City during Dussehra 2020. If you feel, this article might be loved by your friends, kindly share this with them.You can follow our instagram page and support us. If you feel to save it for future reference, please save the below Pin in your Pinterest Board, by just clicking the save button on hovering over the image.