Siddara Betta Trek is not just a pilgrimage visit, but the cave exploration, medicinal herbs, fort at the peak, rocks, lakes and scenic view at the top makes it an adventurous and peaceful weekend getaway too. Sidda (Saints) and Betta (Hills), Siddara Betta is known as Hill of Saints and the path to the hidden caves here make one stand astonished. This weekend trek will definitely provide you with a different experience and altogether this is a peaceful destination to spend your time with friends and family. In this article, I will provide you with all the information related to the trek and will share our experience as well.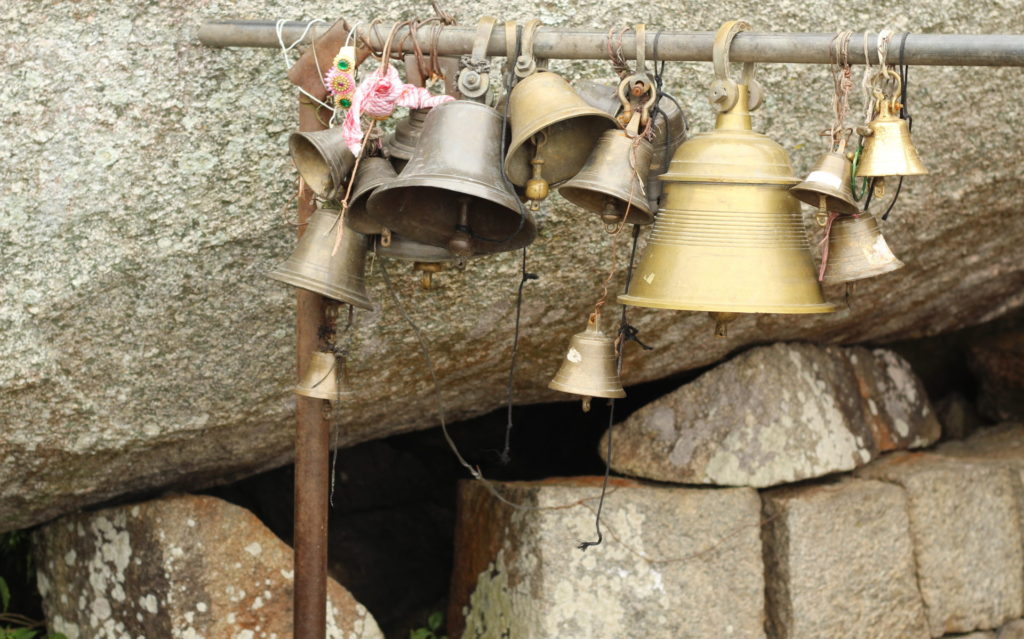 How to Reach Siddara Betta Starting Location?
Siddara Betta is located in Tumkur District of Karnataka and its approximately 100 km from Bangalore. The Latitude and Longitude details to the parking spot are 13.564362, 77.141610. One can travel either by 2 wheeler or four wheelers till the parking spot and there is ample parking space. If you are a Cyclist, you can get help from local shops at the foothills to park your cycle safely.
Reaching Siddara Betta by KSRTC Bus
If you wish to take public transport from Bangalore you can board a bus which can drop you at Koratagere from Majestic Bus Station. From Koratagere, there are buses to Tumkur via Siddara Betta, every one hour (Koratagere to Siddara Betta is approximately 12 km). If you don't find any bus to Koratagere from Majestic Bus Station in Bangalore, you can reach Tumkur and then find an alternate.
Basic Information about Siddara Betta Trek
Altitude: 1600 Feet
Difficulty: Easy
Duration: 4 hours Approx (If you wish to spend time at the peak, you can enjoy and start your descent by evening)
Trek Distance: 4 km Approx
Best Time to Visit: Winter
Booking Details: If you just want to visit till the temple, you no need any special permission or booking. If you wish to explore the caves or go to the peak beyond the temple, it's mandatory for one to have permission with Karnataka State Forest Department. You will be assigned with one Nature Guide, who will guide you throughout the trek and help you reach safely. Caves and View at the peak are the must-try things in Siddara Betta, so I suggest you book through the Forest Department and enjoy the view.
Entry Fee: 250 INR per head.
Note:

1.Try this trek Barefoot to have a great experience. I experienced it and it's easily doable.
2.If you are booking through the forest department, get in touch with your allocated guide prior. Tell them about your tentative reaching time.
Point of Interest in Siddara Betta
Lord Siddalingeshwara shrine placed inside the caves.
Natural Pool inside the caves.
Meditation spot of saints inside narrow caves.
Fort, Rocks, Lakes at the Peak.
Oval Shaped Well and scenic view at the peak.
Am embedding the video of Siddara Betta Trek, but do read this article first, to get to know things in detail.
Siddara Betta Trek Experience
Myself along with 4 friends Hathi, Sethu, Dhandapani and Sakthi started our journey from Bangalore around 6.00 am and reached Siddara Betta around 8.40 am. After having tea and biscuits near the entrance, we parked our vehicle and called our guide allocated by the Forest Department. We were assisted by two guides named Mr Rakesh and Mr Pavan. Both of them belong to the same village and they are very well versed with the caves and trails and had a little knowledge of the history of the hill.
The initial phase of the trek has stairs throughout and it's a gradual ascent. It hardly takes an hour to reach the temple point. Taking any of your personal belongings in hand will lead to a fight with monkeys and no doubt monkeys will win the war 😀 . We are not an exception and we lost the war very badly. Keep all your belongings and eatables in your bag.
At the Peak
We did not visit the temple first, rather we headed to the peak and it took another 45 minutes to reach the peak of the hill. The initial phase of the trail is through the caves and it might be a bit confusing without a guide. This doesn't last long, and we were out of caves within 5 to 10 minutes. The view after coming out of caves is splendid and one can see rocky mountains around. Clicking a few pictures, we started our trek further and the trail turned to thick bush and gave us a jungle feel. Till the peak, we trekked through the bushes and at the peak we saw a vast plain surface on the rocks.
One can witness abandoned fort build by King Kurangaraya in 13th Century (as told by Mr Rakesh), temple and lakes at the peak. Cloudy climate, cold wind, and open sky made our trek more memorable (Plan your trek during winters, to enjoy the most. During summers you should plan to reach peak very early). We wandered at the peak, had our pack snacks at the rocks and headed to temple down.
Thrilled Climax of trek
The climax part of the trek was something we loved and it's almost a very different experience. After praying Siddalingeshwara, we thought that's the end. But our guide asked us to turn on the mobile torches. He was asking us to sit down and enter under one of the huge rock. I never expected that there is a path under the rock and without thinking I just started entering. Later I realised, I was not comfortable to enter that with bags. Just handed over the bags to guide, sat and entered the narrow rock. After crawling for about 10 to 15 metres under the rock, we got some room to half bend.
We kept following him and at one point we witnessed sunlight peeping through the rocks. It was absolutely silent and we saw a room under the cave. The guides told that was one of the meditation room for a Swamiji or saint. He took us further to the dead-end of the cave. There we saw a natural pool and guide told us that the pool never dry out even during harsh summers and these pools serve the saints. It was absolute peace and trust me, the silence inside the cave takes one to a different world. With these awesome memories, we started our ascent to the base and enjoyed the free lunch offered by the temple society.
Important things to Consider when Trekking to Siddara Betta
Either trek it Barefoot or with good trekking shoes during the rainy season.
Beware of Monkeys and keep your belongings in the bag.
Take your ID card, if you are booking through the Forest Department.
During the rainy season, leeches might be there, take necessary precautions.
I had narrated the experience of my Siddara Betta trek in a short and informative way. The trails and hiking experience can never be described by words. I want you to experience the beauty with your backpack. I am waiting to hear about your experience in the comment box below. All the images in this post belongs to Sakthi Aravinth and thanks Sakthi for the beautiful pictures.
If you find this article useful, do share it with your friends with whom you want to plan this trek or if you feel this article will be needed later for reference, "Pin the below Image" to your Pinterest board. You can do it just by clicking the save button while you hover the image or click the image.