With a huge increase in Social Media usage, it's a common sight now to see people traveling destinations, clicking pictures, and uploading it on Instagram. Even though the picture speaks louder than words, almost all of us are looking for some impressive Travel Quotes for Instagram or any other media to make Picture Perfect. In this article, I will be helping you with writing your own travel quote or caption for Instagram based on the moment, destination, and other such factors. I am not going to stop there but will be adding our own travel quotes, along with some famous quotes quoted by legends regarding travel.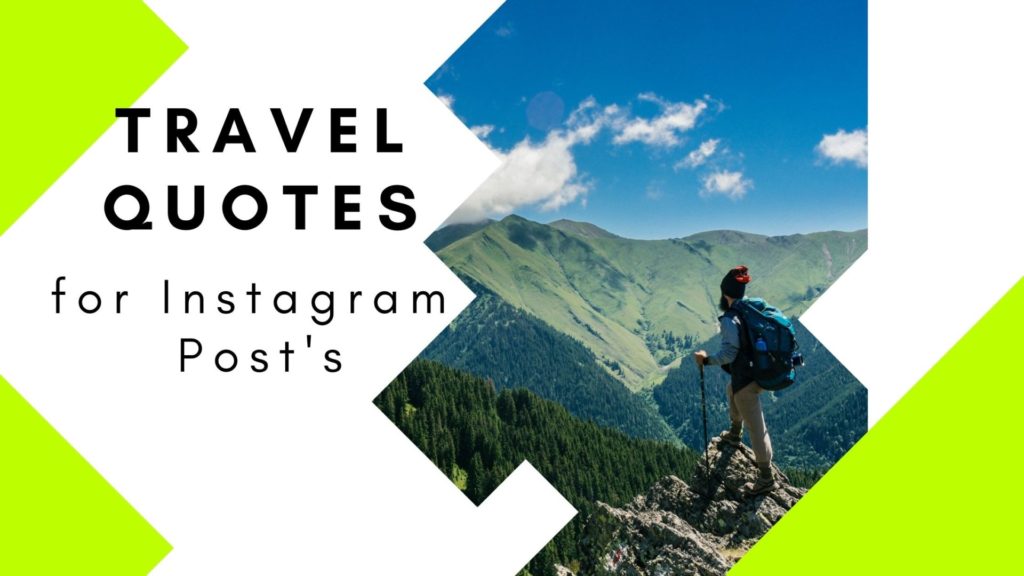 How to write your own Travel Quotes for Instagram
Before writing your own travel quote or caption, we just need to understand whats Quotes and Caption in short.
Quote: In simple terms as per Google Dictionary – it's nothing but "words from a text or speech written or spoken by another person". OK, now you might get a question, if Quote is a word or speech by another person, then this heading "How to write your own Travel Quotes for Instagram" sounds strange, right? Yes, it may be but now your words are quoted for someone else ;-).
Caption: Caption is the text format of any multimedia content. Simply how you are going to explain the visual image in words.
Now, let me tell you how to write travel quotes or caption. Just try to describe the following
how you feel at the moment. For example, once Edmund Hillary reached the peak of Mt.Everest, he just stated his experience in a Single line "It's not the mountain we conquer, but ourselves". Similarly, pen down something that you feel in the destination or felt during your journey.
try to express the scene which you experience.
quote or caption should be blended with your mood, which will express the scene perfectly.
don't think too much, just put simple words or phrases in sequence.
You can visit our Instagram profile to see some captions and quotes which we used.Click here
Top 10 Travel Quotes for Instagram Posts
I had ambition not only to go farther than any man had ever been before, but as far as it was possible for a man to go.

-Captain James R Cook
To travel, to experience, and learn: that is to live.

-Tenzing Norgay
Twenty years from now you will be more disappointed by the things you didn't do than by the ones you did do. So throw off the bowlines. Catch the trade winds in your sails. Explore. Dream. Discover.

-Mark Twain
A free ride is life's most difficult journey.

-Captain James R Cook
Age is no barrier when it comes to Travel
Don't listen to what they say, go see

-Chinese Proverb
Once a year, go someplace you've never been before.

-Dalai Lama
Wherever you go, go with all your heart

-Confucius
Never get so busy making a living that you forget to make a life.
Travel isn't always pretty. It isn't always comfortable. Sometimes it hurts, it even breaks your heart. But that's OK. The journey changes you; it should change you. It leaves marks on your memory, on your consciousness, on your heart, and on your body. You take something with you. Hopefully, you leave something good behind.

-Anthony Bourdain
Travel Captions By Dusky Dawn
Packed Rucksack, the lazy friends, and a day trek can never be described but should be experienced.

-Monish
Be crazy enough to miss your booked flights, miss your baggage and upcoming stations. You will laugh at it later.

-Monish
A rucksack without a makeup kit is the one to enjoy the summit

-Monish
Experience a day with local people on local buses, especially in Himachal Pradesh. You will get to know the essence of humanity.

-Monish
Travel, just to communicate without language.

-Monish
The shack, the waves, and the sunset just tell you that the day well spent came to an end, and its time to celebrate the night.

-Monish
I Go and sit with local people even if I don't know the language. Sitting with them for a while gives you complete happiness and joy which words cannot do.

-Monish

These are some of the quotes which I wrote based on my personal travel experience. I will keep updating this Quotes and hope you would have got some travel quotes or captions for your Instagram posts.
I hope you would have enjoyed this article and got a basic idea of writing your travel quote or captions for your post. Please feel free to comment on your captions or quotes related to travel.
If you find this article useful, please share it with your like-minded friends and if you feel to save it for future reference, please save the below Pin in your Pinterest Board, by just clicking the save button on hovering over the image.
Take care, cheers and see you in another post. Let's travel together !