Sar Pass Trek is no doubt one of "The Best Himalayan Trek for Beginners" in the Shivalik ranges of Parvati Valley (Kasol, Himachal Pradesh, India) due to its scenic beauty and the trail. It's also one of the most famous treks offered by YHAI (Youth Hostel Association of India) and it has a huge demand as well. I fell in love with one of the campsites of Sar Pass trek, which I will reveal later in the post and I completed this trek twice just to have a pleasant stay at that campsite. I hope you will be more interested to know the campsite and experience the same. Here I will help you with some information about Sar Pass Trek and share my experience throughout. Let us start our Trek!
About Sar Pass
Sar in local language means "Lake". There are a lot of "Passes" in the Himalayan ranges. Basically, a Mountain Pass is nothing but a navigable shortcut through mountain ranges or ridges used by the local people to trade or move to the nearby villages. Sar Pass is one such pass used by the local people from the past. Now, this had turned to be a trail for trekkers in the Parvati valley. Sar Pass offers a very good view and the trails are blissful to eyes. Also, this Sar Pass trek is famous for the Snow Slide, where one can slide in Snow for almost 500 meters based on the snowfall.
Basic Information about the Sar Pass trek
Altitude: 13,800 ft from the sea level.
Difficulty Grade: Moderate.
Hours of Trek Per Day: 6 – 7 hours.
Base Camp: Kasol, Himachal Pradesh, India.
Number of Days: 10 Nights / 11 Days (Based on the Organizer 2 or 3 days can be reduced).
Best Time: May-June.
Even though the trek has been rated with Moderate difficulty, from my experience I had witnessed this trek can be done even by a beginner. We as a group of 15 friends trekked Sar Pass in the year 2017 and our group completed the trek without any trouble. Our group had a mix of fit and partially fit people, who did some basic workouts before the trek for a month and completed it. Also, I want to say when we were on our trek, we encountered 87-year-old gentlemen trekking Sar Pass (He was not allowed to the summit, whereas he returned back from 3rd campsite). So in short, age doesn't matter if you are fit and fine with a positive mindset.
I prefer YHAI for Sar Pass trek due to various reasons and I had penned down the reasons why should one consider trekking with YHAI. Booking for the YHAI Sar Pass trek starts around October or November with 50 – 60 slots per day. To book for the trek you can watch out this space often.
I will be writing this complete article based on the YHAI's itinerary.
Day 1: Reporting Base Camp
Like YHAI, most of the trekking organizers, as well as private local guides, mark Kasol as the base camp. I have written a detailed article about Kasol and how to reach Kasol, here.
You will be asked by the organizers to report to your base camp within 8.00 PM. On your arrival, all the documents related to your trek like Medical Certificate, YHAI membership, Booking Receipt will be validated and once the process gets completed, you will be allocated with a Tent and provided with an Admit Card. Nothing much on Day 1, it's time to socialize with people.
Day 2: Acclimatization, Orientation, and Training
Get ready to change your Biological Clock! Yes, its time to fine-tune your body to mountain culture and YHAI helps you to do it perfectly. You will get a Wake-up call at 5.00 Am. Only in base camp you will find normal washrooms and in all other camps,its tented washrooms with water except the Nagaru Camp. Hot tea will be ready by then and once that's done get ready for your Physical Training Class. It all starts with some basic exercises and dynamic Stretches. Focus on your lower body will be emphasized more. Once you are back from the Physical Training class, it is time for your breakfast. Followed by an Acclimatization walk. It can be either to the river bank or to Manikaran. You will enjoy this walk with your trek mates.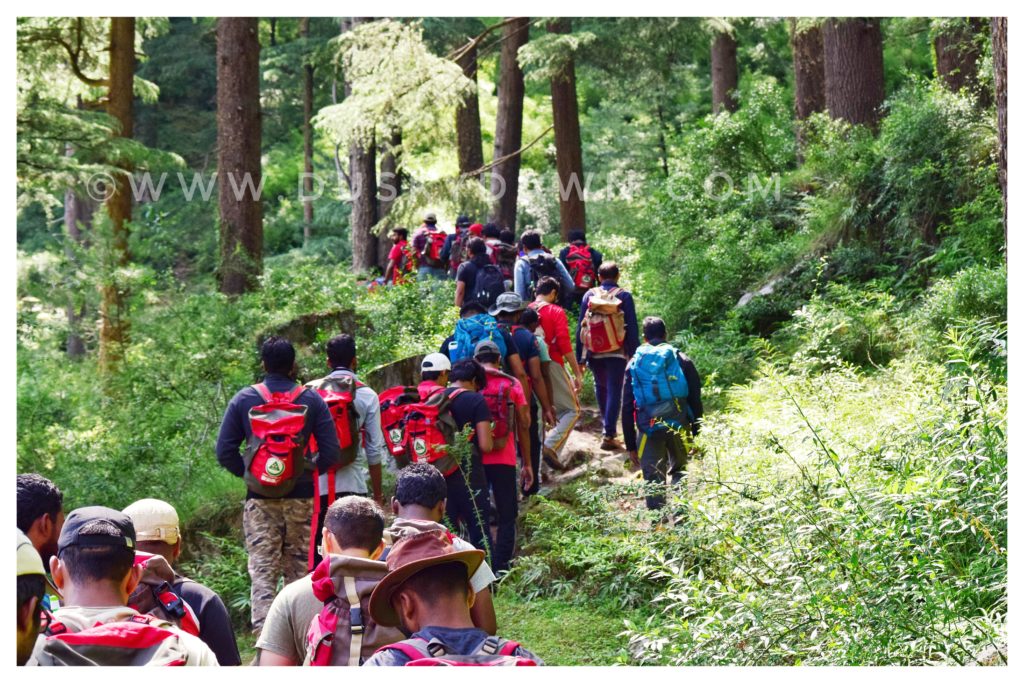 You will be back to your base camp by afternoon and its time for your Lunch followed by Orientation about Do's and Dont's, YHAI history, etc. You will get some leisure time in the evening followed by Dinner and Campfire which you can enjoy.
Day 3: Rock Climbing ,Rappelling and Kit Inspection
The same routine of Physical Training follows on Day 3 as well. Followed by Rock Climbing and Rappelling session, this completely depends on the weather. If it's rainy, then its time for the same acclimatization walk followed by Lunch. On Day 3, you will be packing your rucksack for the trek, and deposit the extra luggage in the Base Camp. Once your rucksack is packed, it will be inspected and weighed. Based on the Field Director's advise you will be given heads up or asked to reduce the weight of the rucksack.
Dinner followed by the campfire as usual. Now, You are ready for the trek, and tomorrow you don't have to wake up early as you will be starting your trek to higher camp!!
Day 4: Flag off and Trek to Grahan
On Day 4, around 8.00 Am in the morning your entire batch will be assembled in the base camp and flagged off to the next campsite. You will be cheered by the next batch, that's a positive feeling which words can never describe but you should experience it.
Trek Time: 5-6 hours
Altitude above sea level: 7700 Ft
Difficulty from Kasol to Grahan: Moderate
Trek to Grahan is through the forest and you will be following the river for most of the distance. This trail has markings everywhere and one can easily navigate till the village. You might encounter deviations en route, but all the routes will lead to Grahan. You can encounter local people selling fruits like Fala Fal, Flower syrups on the trail. Ensure it's never missed.
Grahan is the last civilized village on the way to Sar Pass trek. This is a small beautiful village where you can visualize a peaceful life lead by local people. When we had a chance to interact with local people, we got to know the pain and trouble they undergo staying in such a village that doesn't have connectivity to the rest of the world. The small farms and the houses of local people, surrounded by huge mountains are definitely a visual treat to one's eyes. You can take a tour around the village, where you can see the school, a volleyball court for the village, a gigantic temple carved in wood and architecture of houses made of wood. Also when we were on the trek, we got a chance to try local food of Himachal called Siddu. Local people will be very happy to serve you, just try it!
Important Note: Kids of Grahan will be expecting Candies from you, never disappoint them. Mobile networks will be partially available. You can try star gazing here.
Day 5: Trek to Padri Campsite
Trek Time: 6-7 hours
Altitude above sea level: Approx 9000 Ft.
Difficulty from Grahan to Padri: Easy
The trail to Padri is almost a flat one. Most of the organizers won't camp in Padri, but YHAI has their campsite in Padri. This a beautiful campsite, which has one huge waterfall nearby. You are really gifted to see and enjoy the waterfall if it rains. This is one of the biggest campsites and you can have fun with your troop here. Do wander around this campsite and enjoy the scenic beauty here. From Padri you will be able to see the Nagaru Campsite and during the night. Just try showing your torchlight signal for which you can expect a response.
Important Note: No Mobile network. Exercise caution when you are near horses, you might get a kick.
Day 6: Trek to Min Thatch
Trek Time: 7-8 hours
Altitude above sea level: 11,200 Ft
Difficulty from Padri to Ming Thatch: Moderate to Difficult
Padri to Min Thatch is a never-ending trek. This seems to be a bit longer and you will be having your lunch at an awesome viewpoint. Post lunch the trek will be a bit difficult and you need to be safe in this trail. Thatch in the local language means "Grass Land". All the campsites are in grassland and most of the cattle grazers have their stay in these grasslands during the night. When we were on a trek, at this campsite we had our Kabbadi match and it helps you to get warmed up fastly.
Important to note: Next campsite at Nagaru will not have water and you need to carry sufficient amount of water for you from Min Thatch.
Day 7: Trek to Nagaru
Trek Time: 5 hours
Altitude above sea level: 12,500 Ft
Difficulty from Ming Thatch to Nagaru: Moderate
You will be gaining less altitude, but this trek is considerably easy than your yesterday's trek. Easy doesn't mean that you can be fast. One should be very careful in this trail, as it's very dangerous and riskiest. These trails are very slippery when there is a snowfall. You should ensure that a firm foothold is established before taking your next step. You will be almost reaching the ridge of the mountain and within a few meters, you will be reaching the flat hilltop, where the campsites would have been established.
Stargazing and sunset at Nagaru is a must-try one. You will be experiencing huge wind and cold at Nagaru. Often tents are blown away from this campsite due to heavy wind and when I was on the trek, we were holding the tents firmly for almost an hour. Never miss the fantastic view from this camp, as most of them would be tired and wish to stay inside the tent because of the climate. If you are trekking through YHAI, you will get Hot Gulab Jamoon as sweet at that altitude, which is a great treat for your tongue, after days.
Day 8: Summit Day and Trek to Biskeri Thatch:
Trek Time: 6-7 hours
Altitude above sea level:13,800 Ft Summit Height
Difficulty from Nagaru to Biskeri Thatch: Moderate to Difficult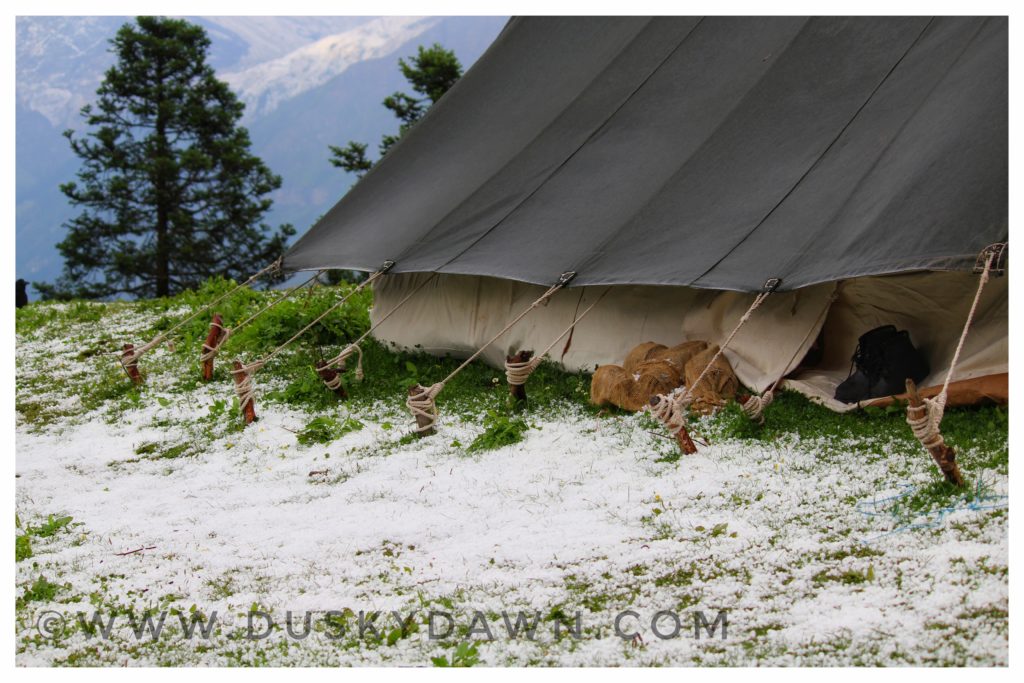 As today will be your summit day, you will be starting your trek around 4.00 am. You will be reaching the maximum altitude of your trek 13,800 Ft and you can see the beautiful peaks around from Sar Pass. Do get in touch with your trek guide and ask about the surrounding peaks and they will explain to you in detail. Once you cross Sar Pass, you will be trekking mostly in snow and this trek will be also a never-ending one.
In this trail, you will get to experience the Snow Slide where you will be sliding in snow for almost 500 meters and Sar Pass trek is famous for this slide as well. One might experience mild headache before reaching the Biskeri Thatch as this is normal.
Day 9: Trek to Bandhak Thatch
Trek Time: 5 hours
Difficulty from Biskeri Thatch to Bandhak Thatch: Easy
Here comes the campsite that "I LOVE THE MOST". A flat grassland, with few tents, huge rock, surrounded by snow cap mountains and pine trees. I hope you can imagine the beauty of this location. One should enjoy this location peacefully and trust me, you will love this campsite. Most of the organizers and even some trekkers from YHAI tend to skip this campsite due to their leave concerns. If you are planning in such a way, I request you to enjoy this campsite rather than worrying about your leaves.
Day 10: Trek to Barshaini
Trek Time: 2 hours
Difficulty from Biskeri Thatch to Bandhak Thatch: Easy
This is a small trek and you will be doing it yourself without any guide. On your way to Barshaini from Bandhak Thatch, you will be passing a few villages like Tulga, Pulga. Again you are back to civilization and now your feeling will be like "Why I am back here?". You will get to see all the technology, transportation in Barshaini and you are back to normal life. Now its time to take a bath, you will be doing it after a long time. On the way back to your base camp by bus, you can have a dip in natural hot water spring at Manikaran and relieve your body pain.
Once you are back to base camp, you can participate in your last campfire, collect your certificates, bid goodbye to your friends and I know you will be leaving those mountains heavy-hearted.
These mountains will be calling you back forever and you would have made some lifetime friends. These treks teach us lots and lots of stuff, which we wish to follow in our life, once we are back to routine life. One who follows those lessons will lead a peaceful and healthy life, no doubt in it.
Packing Checklist for Sar Pass- The Best Himalayan Trek for Beginners
I hope you had enjoyed Sar Pass – The Best Himalayan Trek for Beginners artistically and you are thinking to experience this trek. If you are a beginner, you might be confused about the expense and things to take for the Trek. Please read this article on Essential Things to Carry for the Himalayan Trek to get your packing checklist. I am waiting to hear the campsite that you loved the most. Please do comment below about the same and share your experience below. If you feel, this article might be helpful for your friends, kindly share this with them.
If you feel this article might be useful, please "Pin the below Image" to your Pinterest board. You can do it just by clicking the save button while you hover the image or click the image.