Kasol being called as Paradise of Backpackers, Mini Israel of India is no doubt "Heaven On The Earth". Like most of the first-timers, even I never got to know about Kasol, until I booked for my Sar Pass trek in the year 2016. From then I was more addicted to this place which turned to be my summer destination continuously for 4 years. Most of us would have imagined or painted the following scenery in our childhood "a beautiful mountain, thick forest and river flowing in-between". I hope you are running your imagination wild and Yes! Kasol is such a small village. I am here to help you with the complete guide for your trip to Kasol
With an increase in the number of backpackers rushing to Kasol, slowly we could witness it's becoming a commercial place. It's the right time to visit Kasol and enjoy its utmost beauty before we lose it. Let us start our trip!
About Kasol
Kasol is a small village in the Shivalik Ranges – Parvati Valley with only 2 streets, surrounded by snow-capped mountains, flowing rivers, thick pine forests in the Kullu District of Himachal Pradesh, India. More than a village it can be called a settlement along the banks of the Parvati river. People of this village are very kind-hearted and they are called as Pahadi People (meaning – people living in the Mountains). They mostly speak the official language of the Kullu District -called "Kulluvi".Kasol is almost 80 km from Manali and 40 Km from Kullu.
How to Reach Kasol from Delhi
If you are backpacker starting your trip to Kasol from any other part of India or World, you should arrive Delhi.We can reach Kasol from Delhi either by Road or Air.
By Air
The nearest airport to Kasol is Kullu Manali Airport (KUU) located in Bhuntar. Only a few flights are operated to Bhuntar and the fares are quite high throughout the year. I don't think reaching Kasol by air will be the best option, as you will be missing the scenic route that you encounter when traveling by road.
By Road
One can reach Kasol by road, either from Delhi or Chandigarh. This will be the cheapest and one can enjoy the scenic view of Himalayan Ranges in the early morning, if you are starting your travel by night. Based on the weather the journey might take 12 to 15 hours from Delhi, as the routes in the hilly region are blocked at times by landslides.
Volvos In Delhi Start from Majnu Ka Tilla (IOC Petrol Pump), RK Ashram Metro Station. From New Delhi Metro Station (Connected with IGI Airport) you can reach the RK Ashram Metro Station.
HPRTC bus start from ISBT Kashmere gate (Connected by Metro Rail)
There are a few Volvos operating directly to Kasol from Delhi, but due to local taxi unions, sometimes the buses will be blocked midway (before 10kms to Kasol) and you will be forced to take a cab from there which is quite annoying. There are several Volvo's starting from Delhi to Manali which can drop you at Bhuntar, from where you can get local buses often to Kasol. Apart from Volvo's, you can also get HPRTC's Deluxe buses which will be the cheapest option.
There are also some one-way cab service providers to Manali like Wiwigo, Gozo cabs. These are cheap, as you pay only for one way and you can travel according to comfort with rest stops. But these services should be booked early and you should get in touch with them before 3 days to make sure the cabs are allocated and ready for you. I had mixed experience with these service providers and I feel like booking these services in advance can be the best option.
Semi-Sleeper Volvo's operating from Delhi to Kasol might charge you around 1400 -1700 INR, depending on the season. HPRTC deluxe buses can charge you around 700 INR and the one-way cab service may cost you somewhere in between Volvo's and HPRTC buses if shared. Local bus from Bhuntar to Kasol charge around 60 INR.
Best Season to Visit Kasol
There is no specific season to visit Kasol. If you are a first-timer and want to experience Kasol, I Suggest you visit in May and June. But each season gives you another angle of beauty and its altogether a different experience.
Stay in Kasol
Staying in Kasol is considerably cheap and there are a lot of options available depending on one's budget. Kasol being more commercialized, we can witness a lot of hotels and camps coming up here and there. It will be a quite tough job to select the stay online if you are a nature lover and wish to have a scenic room. During summer you can try to book the stay online since the demand will be quite high. You can get in touch with the property owner and ask for a 360 view and they will be happy to send it.
If you are in Kasol on an off-season, you can just take a small tour around the village and pick the stay of your choice. Below I will list the options of stay types that you can prefer during your Kasol trip.
River Side Camps
Camping riverside in Kasol is completely relaxing and one can fall in love with themselves along with nature. Once you are in Kasol, you just need to explore the hamlet and find the camp that suits you. A lot of camps are available on the river bank when you are moving towards Manikaran from Kasol. You can also pitch in your own tents in the River Bank and have a peaceful stay.
Hotels and Hostels in Kasol
The most budget-friendly stay in Kasol will be hostels. If you are a backpacker or gypsy traveler there are a lot of hostels like Nomads, that can accommodate you in a dorm for almost 300 to 450 INR Per Night. Other than hostels, local people have their own property rented out for months and you can consider getting one if you are in Kasol for a longer duration.
If you wish to have a normal and comfortable stay like a tourist, you can find wide range of hotels in Kasol. You can find lot of Oyo Rooms and hotels.
Things to do in Kasol Trip
Kasol also called "The Hippies Junction" offers a lot of stuff to be carried out in and around the village. I hope you would have got the essence of what's being told from the term Hippies. Yes, Kasol is famous for Malana Cream and Hash leaf, sort of illegal stuff grown here naturally.
Walking, Yoga and Chilling Riverside
Either when you are alone or with your friends, you can enjoy walking, do yoga or just have some fun activities by the riverside. The riverbank on the way to Grahan village is completely isolated and peaceful with an awesome view.
Hiking and Trekking
There are a lot of treks in the Parvati Valley region and Kasol acts as a hub for most of the Trekkers and Hikers. Some of the famous trekking include Sar Pass Trek, Kheer Ganga trek, Pin Parvati Pass Trek. These treks will be always close to one's heart not only due to its scenic beauty, but the trails are peaceful and calm. I have been to the former two amazing treks and If you are planning for a trek in Parvati valley, my article on Sar Pass trek will help you.
Israeli Food
With a lot of Israeli people, one can find almost all the cafes and restaurants offering us Israeli food, which is a must-try when you are on a trip to Kasol. I tried only a few stuff here and loved the Burekas and Falafel. Also, there are small German Bakeries outside the cafes and they offer nice deserts. With mercury dropping during evenings, Momos with mayo and sauce, along with authentic Indian Chai is a must-try. By default, you will be getting Maggi and egg everywhere in Kasol.
Star Gazing
Hiking to some of the nearby villages like Grahan from Kasol will be a Star gazing destination and you can spend your nights gazing the sky.
Villages to Visit and Treks Around Kasol
There are a lot of other places around Kasol at a walkable distance and they are less populated than Kasol. These places are already attracting a lot of backpackers as Kasol is getting crowded day by day. I will be listing some of the best villages which should be visited during your trip to Kasol.
Grahan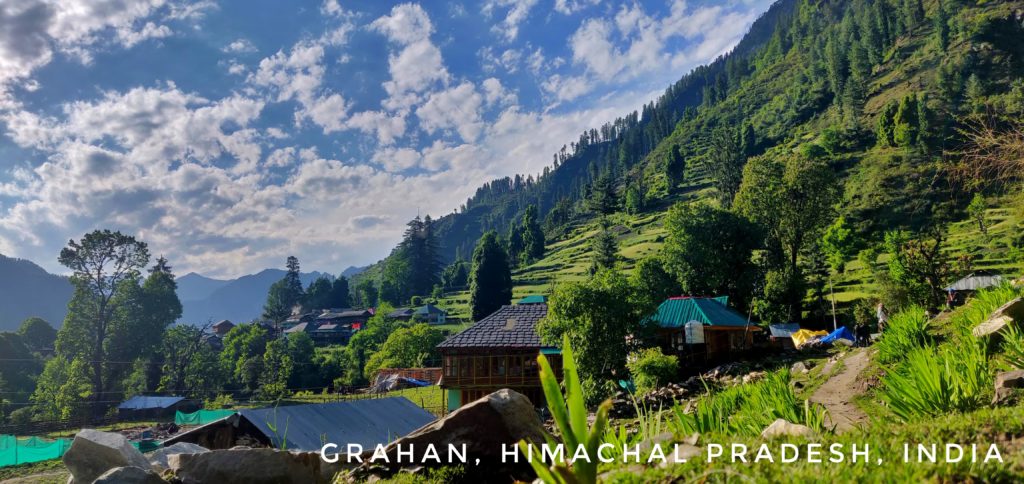 Grahan is one such village which is a 5- 6-hour hike from Kasol and this is located on the way to Sar Pass Trek. One can find direction marked to the village throughout the trail. In 2019, I witnessed they were constructing the road to this village and its still in progress. Even if the roads are constructed, kindly prefer hiking to this village as it offers a fantastic view and for sure you will enjoy the trail. This the last village that's civilized on the way to Sar Pass and the small farms surrounded .by mountains are pleasant to eyes.
Manikaran
Manikaran Gurudwara is located at a distance of 4 km from Kasol and its the holy place for Sikhs and Hindus. You can either walk to Manikaran or get a local bus form Kasol once in 45 minutes. Manikaran is famous for its natural hot water spring, and its Langar that offers free food to all the devotees. One should try both in Manikaran and its believed that taking a dip in hot water spring has some medicinal importance. You can also offer your service of any kind in Langar.
Tosh
Tosh is another small village near a place called Barshaini, which is one hour travel by bus from Kasol and 40 minutes travel from Manikaran. (Sequence is like Bhuntar -Kasol – Manikaran – Barshaini). One can get bus till Barshaini, where a Hydro Powerstation is being commissioned. From Barshaini one has to trek for almost 3 km or take a cab to reach Tosh. From Tosh, one can get to see an awesome view of snow-capped mountains. Unlike Kasol, Tosh is less populated and its a great place to stay peacefully. Kheerganga trek starts from Tosh as well as the location where Hydropower station is located. I will write a separate article on Tosh and places to visit around Tosh.
Kheer Ganga Trek
It's a one day hike from Barshaini and you can do it yourself as the routes are clearly marked and locals can guide you. There is more than one trail for Kheer Ganga. One through the Kalga Village, other on the opposite side, and the other one from Tosh. Prefer hiking through the Kalga Village as the trail is good and views are breathtaking. Kheer Ganga trek is a bit long one, almost 9 Km and it takes 6 to 7 hours. Taking a dip in Hot water pool at the peak has no words to be explained. Kheer Ganga is also an apt place to do Star Gazing. Apart from all the mentioned things, there is a small Shiva Temple there, which is the calm and the best place for a short meditation. I had written a complete guide to Kheerganga trek, please read it to get more information.
Malana
Malana is said to be one of the oldest democracies in the world and the people of Malana consider others as Untouchables. People visiting should not touch either the Temple and Religious property of Malana, as well as the people of Malana. It is famous for the Malana Cream and its almost 20 km from Kasol towards Bhuntar.
Best Cafes in Kasol
There are lot Cafes operating in Kasol and will be listing here few cafes that have got their Brand Name due to the ambiance, food and the service they provide.
Jim Morrison Cafe
Bhoj Cafe – One of the Oldest Cafe in Kasol
Moon Dance Cafe
Stone Rock Cafe
Little Italy
Apart from these many cafes have been started recently. I have listed only the few among all.
Important things to consider when you are on a Trip to Kasol
Before heading to Kasol, from Bhuntar or Delhi take a sufficient amount of cash with you, as the number of ATM is one or two. At times you might not get cash from ATM machines and you might end up paying additional money to get cash by swiping your card in any retail outlets.
Keep the environment clean and say no to plastics.
Respect the culture of Local people and check whether you are allowed to enter their religious places.
When you are on a hike to different parts, you might be followed by local dogs, ensure that its safe and don't hurt it anyway.
If you are staying in your own tent, you can use the Forest Department's shower near the bus-stop where you can get hot water.
At some places during your Hike, Local kids might be asking a Candy from you, ensure that you are carrying enough to give them and make them happy.
Approximate Cost for Kasol Trip
Just giving a approximate expense table below for different category of travelers, staying 5 days in Kasol excluding food.
| Expense Type | Budget Travelers Expense | Comfortable Travelers Expense | Luxury Travelers Expense |
| --- | --- | --- | --- |
| Delhi to Bhuntar | 700 INR – HPRTC | 1000 INR -Shared One Way Cab | 1500 INR -Volvos |
| Bhuntar to Kasol | 60 INR -Local Public Transport | 170 INR -Shared Sumo (1000/6 INR) | 1000 INR -Private Cab |
| Stay in Kasol (for 5 nights) | 400*5 nights=2000 INR (Hostel Dormitory 4 or 8 Sharing) | 1000 * 5 nights (Twin Share) 5000/2=2500 INR Per Head | 9000(Twin share) 9000/2 =4500 Per head |
| Local Buses or Cabs | 300 | 600 | 1500 |
| Other Expense | 1000 | 1500 | 2000 |
| Kasol to Bhuntar | 60 | 200 | 1200 |
| Bhuntar to Delhi | 700 INR | 1500 INR (As probability of getting shared cab will be less, you should opt volvo) | 1500 INR |
| Total Approximate Expense | 4820 INR | 7470 INR | 13200 INR |
Approximate expense for different type of Travelers for a 5 days trip to Kasol
Get your Rucksack, Pack it and Experience Heaven on The Earth. Kasol will never disappoint you and you will enjoy the Mountains and Rivers.
I hope the above guide will help you and you can share your thoughts and experience in Kasol in the comment box below. Waiting to hear from you !! Please share this article with whom you are planning your trip to Kasol.
If you find this article useful, do share it with your friends with whom you want to plan this trek or if you feel article will be needed later for reference, "Pin the below Image" to your Pinterest board. You can do it just by clicking the save button while you hover the image or click the image.